INAUGURATION - A DREAM BECOMES A REALITY
The First Headmaster Koppolu Ramachari.Starting the project of expansion of education in Bodangparthy was not an easy task. To do so, we had to work through numerous obstacles from political leaders, administrative officials, and others.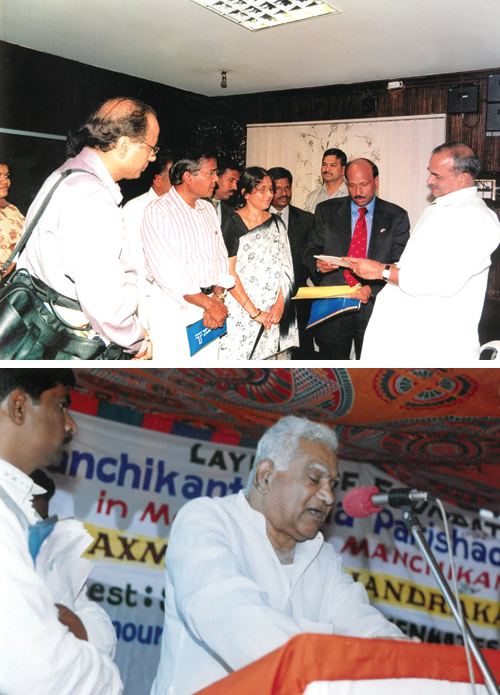 It required not only large sums of money, but also a tremendous amount of hard work by those involved, specifically from Manchikanti family. From the beginning, the support received from leaders and constituents of Bodangparthy, along with teachers, parents, and students has been immense.

Relatives and friends have also contributed greatly both financially and through volunteer work, serving as trustees and providing financial contributions to students.Furthermore, Dr. Manchukonda Rangaiah has sponsored scholarships for medical students for the last several years. School was statrted under the direction of The first headmaster Koppolu Ramachari.Starting the college was another story. Many of the naysayers suggested that it was bor¬dering on galactic stupidity to build a college in Bodangparthy.

However, we did build it. The end product is a nice, spacious building with excellent amenities. Following this,we approached the state government and met with the then chief minister Y.S. Rajasekhara Reddy to obtain permission; however, due to some initial difficulties that year, the permission was rescinded. We also faced resistance and challenges from forces in Munugode and surrounding areas.

Consequently, once again, and with great difficulty, we utilized senators and members of the house of representatives from the United States, the Goverment Order (GO) was obtained from those forces against Bodangparthy were nullified and a new GO was issued permitting the junior college in Bodangparthy. Ultimately, the college was started suc¬cessfully under the auspices of principal, Gaddam Bhaskar Reddy,and has continued to grow. Subsequently,T.Mallaiah has taken the helm as principal and is running the college successfully and is among the best in the state.