NATIONAL ANTHEM OF INDIA
JANA GANA MANA - The poem was first publicly recited on the second day of the annual session of the Indian National Congress in Calcutta (now Kolkata) on 27 December 1911, and again in January 1912 at the annual event of the Adi Brahmo Samaj,[13] [14] however, it was largely unknown except to the readers of the Adi Brahmo Samaj journal, Tattwabodhini Patrika.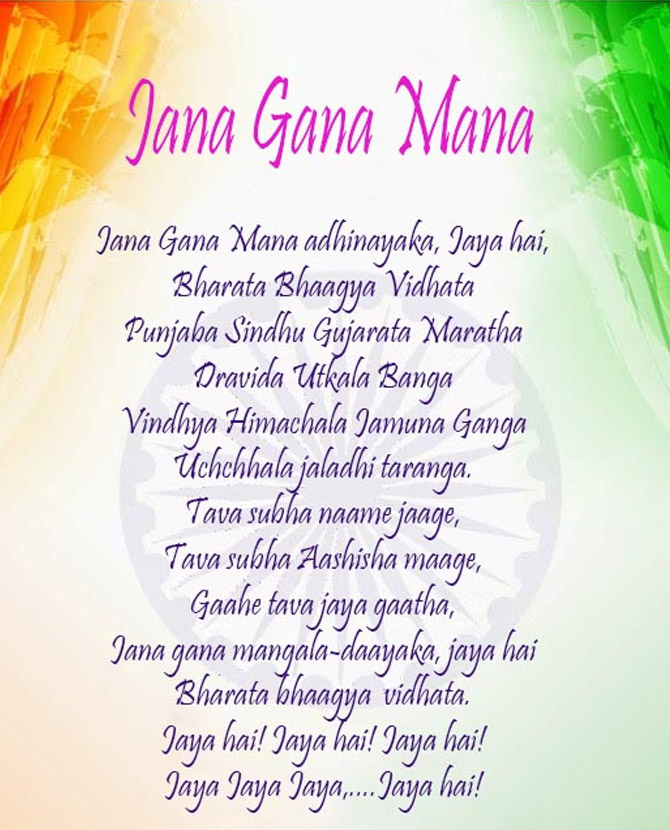 .
The poem was published in February 1905 under the title Bharat Bhagya Bidhata in the Tatwabodhini Patrika, which was the official publication of the Brahmo Samaj with Tagore then the Editor.

In 1912 Song was performed by Sarala Devi Chowdhurani, Tagore's niece, along with a group of school students, in front of prominent Congress members like Bishan Narayan Dhar, Indian National Congress President, and Ambika Charan Majumdar. Outside of Calcutta, the song was first sung by the bard himself at a session in Besant Theosophical College in Madanapalle, Andhra Pradesh on 28 February 1919 when Tagore visited the college and sung the song.

The song enthralled the college students while Margaret Cousins, then vice-principal of the college (also an expert in European music and wife of Irish poet James Cousins),both requested Tagore to create an English translation of the song and set down the musical notation to the national anthem, which is followed only when the song is sung in the original slow rendition style. Tagore translated the work into English while at the college on 28 February 1919, titled The Morning Song of India – via Wikisource.

The college adopted Tagore's translation of the song as their prayer song which is sung till today. Before it was the national anthem of India, "Jana Gana Mana" was heard in the film Hamrahi (1945).[15] It was also the official song of The Doon School, Dehradun. On the occasion of India attaining freedom,the Indian Constituent Assembly assembled for the first time as a sovereign body on 14 August 1947, midnight and the session closed with a unanimous performance of Jana Gana Mana. The members of the Indian Delegation to the General Assembly of the United Nations held at New York in 1947 gave a recording of Jana Gana Mana as the country's national anthem. The song was played by the house orchestra in front of a gathering consisting of representatives from all over the world.